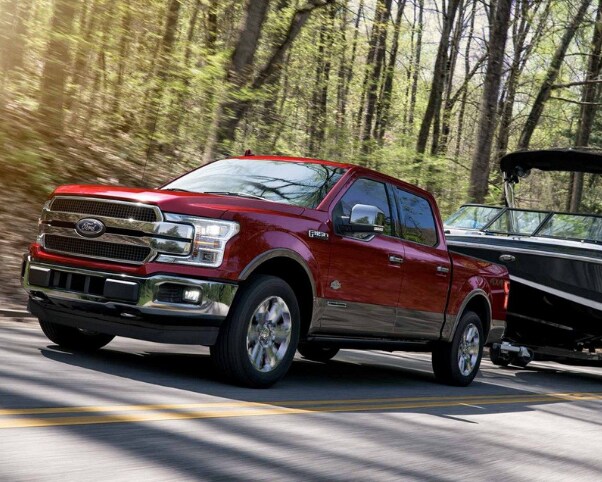 For years, the Ford F-150 has outperformed every other truck that is part of the same vehicle class, from providing flawless commutes to and from work sites to hauling heavy loads of cargo over rough terrain. Considered the leader in the truck niche, the 2019 Ford F-150 continues to set the standard for other automakers to emulate.
The high standards Ford sets for the F-150 starts with the truck's large towing capacity. The lightweight design of the truck includes the use of military caliber aluminum alloy, which withstands the punishment delivered by military and industrial applications. Chevrolet has invested millions of dollars trying to upgrade the 2019 Silverado. The question is has Chevrolet made up any of the ground Ford has blazed with the Ford F-150 for the past decade.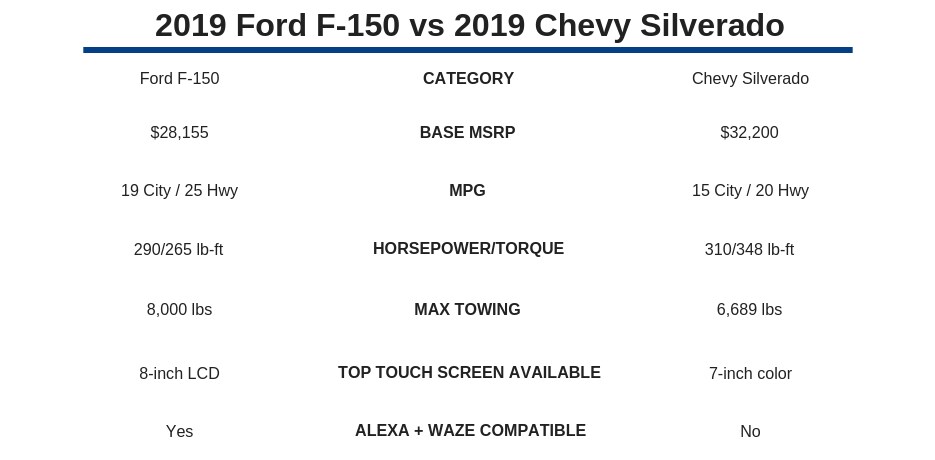 Smart Design Boosts Safety and Entertainment Features
Ford has designed the 2019 F-150 to work hard. The crystal clear eight-inch LCD productivity screen is ideal for professionals that spend considerable time in the field and need to send data and information back to headquarters. Enhanced safety features include the 360-degree camera that presents a split view to cover everything surrounding the highly durable 2019 F-150. Adaptive cruise control with proprietary Stop and Go Technology establishes a safe cruising speed, which ensures the truck creates enough distance between it and the vehicle in front of it.
Engine Options for the 2019 Ford F-150
Standard for the 2019 F-150, the 3.3-liter Ti-VCT V6 engine generates 290 horsepower and 265 pounds-feet of torque. The standard engine delivers more than enough power to move the 2019 Ford F-150 over hilly terrain, as well as through muddy fields. Ford also offers three different types of EcoBoost engines for the 2019 F-150. The 3.5-liter EcoBoost engine delivers an amazing 450 of horsepower and 510 pounds-feet of torque.
Come out to Stoltz Ford to test drive a Ford F-150!