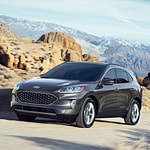 The Ford Edge, like all great SUVs, is equipped with features to help you take on circumstances both expected and unexpected. That's why, among other impressive and ingenious features, you'll find a host of capability features to keep you safely on the road through every season and in every weather condition in St. Marys. Here are just a couple of ways that the Ford Edge proves that it's ready for anything.
One proof of its all-weather readiness is the available Intelligent AWD system. Using multiple sensors, your Edge can sense when you're losing traction even before you can. This allows the vehicle to adjust power to the right wheels at the right time to help prevent skidding and loss of control. Also important is the standard rearview camera with a built-in washer. Now, whether you throw mud, dust, snow, or anything else onto the rear of your vehicle, you will be able to maintain a safe and clear view.
There are so many more features that we at Stoltz Ford of St. Marys want to show you. If that sounds like a good plan to you, just give us a call today to set up a test drive.