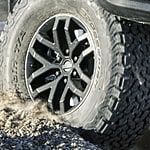 The Ford F-150 remains a top-selling light-duty pickup among owners for the truck's versatility. The truck is at home as a family vehicle as it is as part of a worksite necessity. Ford builds the pickups with features that ensure their durability and reliability.
Ensuring durability begins with the truck's basic build that consists of heavy-duty, military-grade aluminum-alloy to create the body and truck bed. The frame is made using high-strength steel. The materials used to create the pickup resist dents and dings or deterioration.
The F-150 Raptor was specifically designed for off-road travel. In addition to having 4WD, the trucks have special shock absorbers equipped with an electronic valve that ensures variable dampening as needed. The transfer case adjusts responsiveness and torque in the front and the rear when needed. Explore all of the advantages of owning a Ford F-150 by taking one of our Saint Marys, PA Stoltz Ford of St. Marys vehicles for a test drive.